Middle Years Laptop Program
At Faith, the Middle Years Laptop Program has been developed to ensure our Year 7, 8 and 9 students are equipped with the right technology to succeed in their learning.
New Middle School students (commencing in Year 7, 8 or 9) are provided with a brand-new laptop that is fully managed, supported and maintained by the College ICT team. To accommodate this, a Laptop Program Levy is payable by all new Middle School families, only in the first year of the program. It must be emphasised that the Laptop Program Levy is substantially less than the total retail purchase price of the device itself, the included laptop bag, and the associated software licensing & support costs. In recent years, the Middle Years Laptop Program Levy has been payable up front prior to the student's commencement. For 2023, we are giving families the option to pay the Laptop Program Levy over the course of the year with Tuition & Composite fees, using School EasyPay.

The laptop comes loaded with a full suite of software to support the Middle Years curriculum, which includes Windows 10 Education edition, Microsoft Office, Adobe Creative Cloud Suite plus other subject-specific programs. The device will be used by students across Years 7, 8 & 9 and at the end of Year 9 ownership of the device is transferred to the family. At this time, the laptop will be reset and reloaded with a 'factory software image' containing Windows 10 and Microsoft Office. Students are free to continue using this device in Year 10, or families can upgrade in accordance with our Year 10-12 Bring Your Own Device (BYOD) Program.
In preparation for 2023, incoming Middle School students are provided with a Lenovo L13 (Generation 3) laptop. This model was chosen for its performance and battery life, as well as presenting excellent value for money for families. The Lenovo L13 has a 3-Year on-site warranty as well as Accidental Damage Protection (ADP) at no additional cost to families. This allows for a limited number of repairs for accidental breakages at no 'out of pocket' cost, over the duration of the Middle Years Laptop Program. All warranty claims and repairs are facilitated by the College ICT team.
| Lenovo L13 (Generation 3) Laptop | Specifications |
| --- | --- |
| Processor | AMD Ryzen 5 Pro 5675U, up to 4.3Ghz |
| Memory | 16GB RAM |
| Storage | 256GB Solid State Drive |
| Screen | 13.3" Full HD LCD (1920x1200) |
| Connectivity | Wifi 6E + Bluetooth |
| Battery | 46Wh Battery, up to 9 Hours |
| Weight | 1.25KG |
| Ports | HDMI, 2x USB Type-C, 2x USB 3.2, Headphone/Mic Jack |
| Operating System | Windows 10 Education Edition |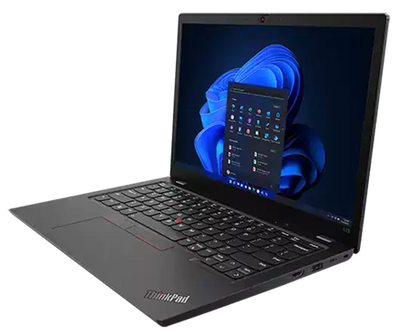 If there are any questions regarding the Middle Years Laptop Program, please contact the College ICT team, preferably via email, at eHelp@faith.sa.edu.au.